DBF MoonMist Venture

Barn name: MoonMist

Color: Grey  (black base) with a star and small snip.

Born: June 2, 2009

She is a nice size filly, very straight. She has lots of running blood with some working cow (King Fritz). MoonMist is more fine bone built than the other foals.

DNA tested.

       her dam information below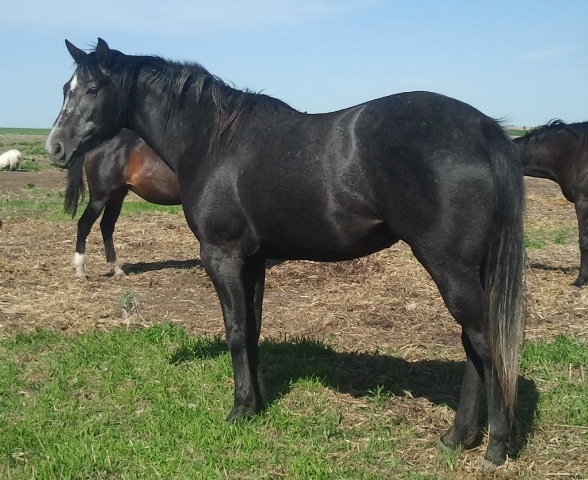 Black Filly
Brio Fritz Cashbar
Bit O Dash
Givemalickin
Dash For Cash
Twinkly Rocket
Lady Streaker
Todd's Charge
My Diamond Lil
Poki Chex Goes
Royal Oak Chex
King Fritz
Grulla Queen
Poki Goes
What Goes On
Verde Wag Two
Oaks Last Shady
The Old Oak Tree
Pistol Bar
Three Bars
Black Princess C
Niggy Bar
Three Bars
Piggy Wiggy
Watch A Shady Lady
I'ma Top Breeze
Top Breeze
Wailua
Girl Watch
Big Al
Goldie Barred
Pedigree generated by PedigreeQuery.com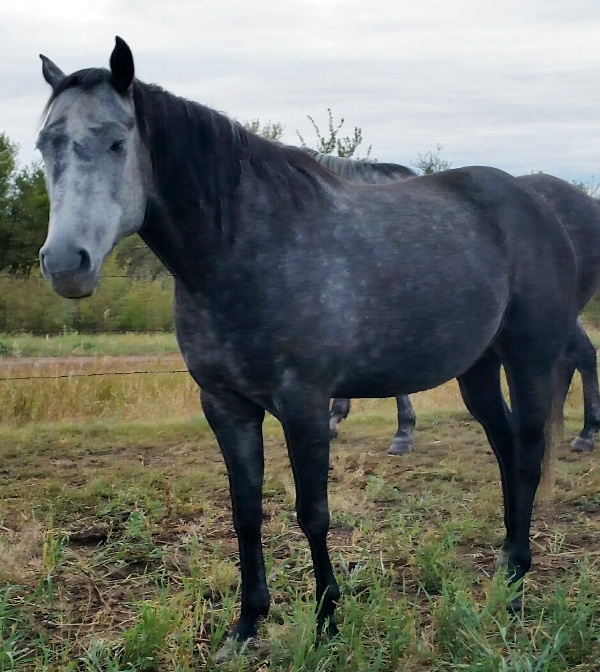 This is William's horse:

   DBF Sweet Chexaleo

                   Mealy Brown mare

                         REG # 4377461

                        Born on May 31/03

This filly has great bone structure, straight legs, short back , thick girth with a pretty head. There is no white on her. Sweetie also has a great personality and a full sister to Katrina's filly "Lady"

She is going to be William's riding prospect when he is older.

She goes back to names like Dash For Cash, Depth Charge, King Fritz, Poco Bueno, Waggoner, Three Oh's, Jet Deck, Leo, Robin Reed, Laico Leo Bar, Leo Bar, Parkers Trouble, to name a few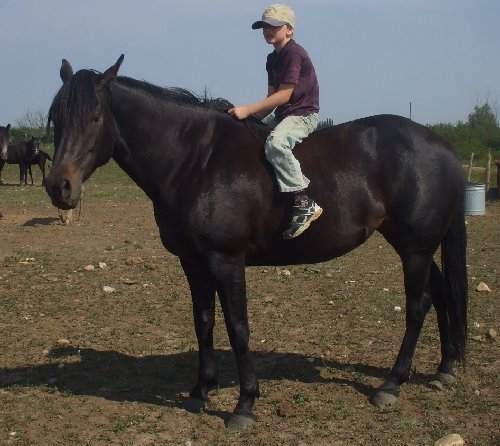 DBF Sweet Chexaleo
Brio Fritz Cashbar
Bit O Dash
Givemalickin
Dash For Cash
Twinkly Rocket
Lady Streaker
Todd's Charge
My Diamond Lil
Poki Chex Goes
Royal Oak Chex
King Fritz
Grulla Queen
Poki Goes
What Goes On
Verde Wag Two
Miss Chicabar Reed
Mr Texas Speed
Mr Jet Tex
Tex Oh
Miss Jet Van
Golden Imari
Leo Russ
Hassayampa Go Go
Tia Lee Hancock
Robin Laico
Laico Leo Bar
Mid Bar Robin
Miss Guy Bar
Guy Bar
Miss Ace Hancock
Pedigree generated by PedigreeQuery.com