Rocket Wrangler    ( Rocket Bar / Go Galla Go)

                        Dash For Cash

                                                 Find A Buyer       ( To Market / Hide And Seek)

          Givemalickin                                                   

                                                 Rocket Bar         ( Three Bars /  Golden Rocket)

                        Twinkly Rocket

                                                 Tinky's Lady       ( Tinky Poo / Clabber's Image)

Bit O Dash              

   gray                                       Depth Charge    ( Bold Venture / Quickly)

16hh             Todd's Charge

                                                Polly June         ( Tonto Bars Gill / Little Miss Polly)

          Lady Streaker

                                                  Leo Diamond        ( Leo San / Sugarfoot Sal)

                         My Diamond Lil

                                                  My Jackie Waggoner  ( Waggoner / Jackie McCue D)

                                                 Power Command   ( King / Crickett McCue)              

                          King Fritz

                                                 Poco Jane         ( Poco Bueno / Mary Jane W)

           Royal Oak Chex

                                                  Cuellar Pet        ( Cuellar / Pet Parker)     

                          Grulla Queen

                                                  Cedar Bun          ( Poco Deuce / Lady Pep- Up 1)

Poki Chex Goes

  buckskin dun                            Tar's Venture      ( Depth Charge / High Venture)  

    14.2 hh            What Goes On

                                                  Miss Candy Spots   ( Yuma Twist / Miss Foul Play)

            Poki Goes

                                                  Poki 3 Nannette     ( Poco Sunday / Gypsy 88)

                            Verde Wag Two

                                                  Verde Wag  ( Tommy Waggoner/ Verde Go Darter)

Red names on Fritz's pedigree indicate accomplishments of the horse in any one of the following:

Halter, Racing, Performance, Legend Status and Hall Of Fame.

                                  Fritz is our senior stallion

Fritz is a very well mannered stallion. He stands 14.2 hands high. He has great conformation and style.  We hand breed with him plus pasture breed. Fritz is a real gentleman with them.

               Fritz's maternal sire is Royal Oak Chex. 

              Fritz's dam traces back to King 6X ( close up)

         There is lots of old legendary horses in his pedigree.

Fritz is heterozygous to the grey gene meaning that 50% of his foals will be grey while the other 50% will be different colors (depending on who he is bred to).

I have heard from some of the new owners of his foals and they are very please with them. "Saying they have great minds and willing to please attitude". His older foals are being used for team penning, working cow, guide horses in the mountains, trail, barrel race, reining, horse shows and feedlots.

Proven Sire of money earning gets in Barrel Racing, other time events, Halter and Western Pleasure.

Click on Fritz's sire and dam names below to see pictures of them.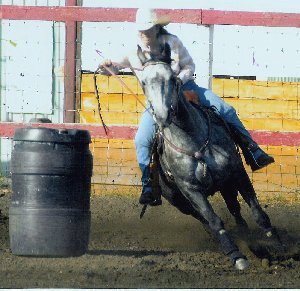 Brio Fritz Cashbar

1997 Grey AQHA Stallion

           Reg # 3624575

             DNA tested

RIP - June 1997 to December 2014

One of Fritz's foal - DBF Skipadash Jewel performing in the CARA circuit (2010) They are in the top 5.

Congratulations Tanya.

Thanks for the picture.                     Photo by RodeoFoto.com

Picture of Jewel and Tanya in Arizona - Feb 2010    below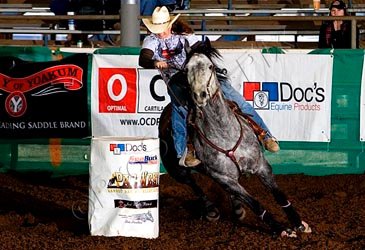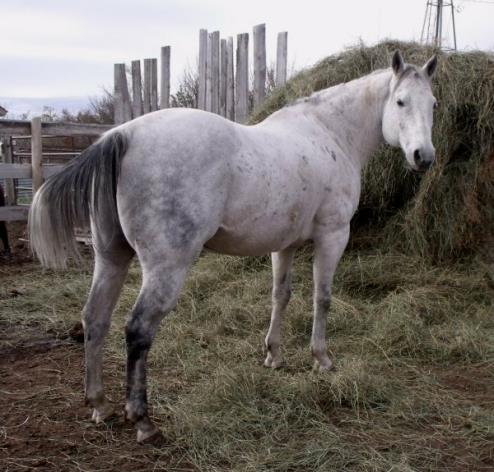 Picture below - after the fly sheet was taken off  -  Fritz 15 years old. (16/10/12)