Our QH Mares

These mares are not for sale,

  they are our broodmares




              Miss Chicabar Reed                                                                    

      Reg.#  3597353                 

Born on May 24/1997.

Chico stand 15.3 hands high, very quiet and gentle.

She is a smutty buckskin in color with only a small star.

She has good conformation and the size for a broodmare.

We have kept 3 of her fillies for our children's riding horses.

Some of her foals are ranch horses and team penning.

Chico's maternal sire is Robin Laico.

Bred her to Finn for a 2019 foal, to get one more foal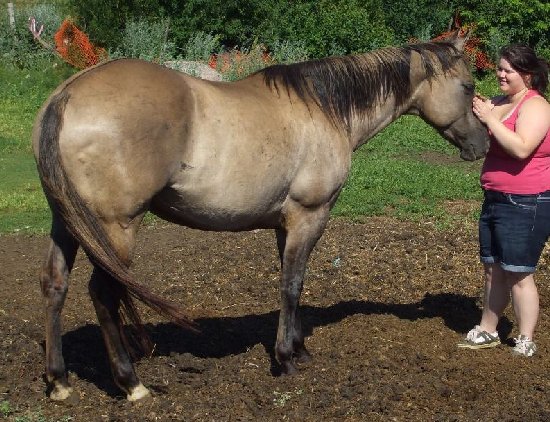 Zips Magic Velvet

                                                                   Reg # 4230286

                                                               Born on May 26/2002

Zip is a silver grulla with very strong dun factors. Zip is a grand-daughter to Three Dimension Zip and Great-Grand to Lightning Bar She has nice bone structure, thick girth, short back, slim neck with a pretty head. Zip is a  sweetheart as well. She comes from a long line of  proven running and performance pedigree.  Zip's maternal sire is Magic Manner.

We also have a half sister to her on the bottom side.

            Azuteen Brown

                                         Reg.# 3557771

                                       Born --- April 30 / 1997

Meeko has great conformation and disposition. She is 15.2 hands high.  Meeko's maternal sire is Azuthought. The buttom side on her dam has accomplished in racing.

Goes back to Skipper W  6X.                      

Dam of money earning 1D barrel horse. Her other foals are being used in team penning, feedlots and starting on barrels.

Azuteen Brown
Spanish Engine
Silent Spanish Bar
Skip Silent
Skippa String
Silent Bar
Skippa Venture
Skipa Skip
Prissy Fawn
Shantys Engine
Skip Badlands 565
Skip Tres Bar
Engine Trouble
Shanty's Shadow
Shanty
Roper's Luck
Azuteen
Azuthought
Aforethought
Intentionally
Aspidistra
Azure Teen
Azure Te
Routine
Movin Melody
Smooth Move
Rocket Bar
Lady Wayward
Trecia's Music
White Mount
Kathy Hopkins
Pedigree generated by PedigreeQuery.com
Miss Chicabar Reed
Mr Texas Speed
Mr Jet Tex
Tex Oh
Three Oh's
Princess Tahiti
Miss Jet Van
Jet Deck
Dyna Van
Golden Imari
Leo Russ
My Leo
La Payasa
Hassayampa Go Go
Drifty's Poco
Bonnie's Image
Tia Lee Hancock
Robin Laico
Laico Leo Bar
Laico Bar
Mimi's Baby
Mid Bar Robin
Robin Reed
Miss Badger Bar
Missy Guy Bar
Guy Bar
Leo Bar
Troubletta
Miss Ace Hancock
My Sorrel Ace
Kyd's Parakeet
Pedigree generated by PedigreeQuery.com
Zips Magic Velvet
Zips Rio Dun
(Proven Sire)
Three Dimension Zip
Zippo Pine Three
Zippo Pat Bars
Pines Annie Lee
Classic Carrie
Dynamic Deluxe
Charisma Red
Tardys Wander Woman
Tardy's Senor 1
Tardy Too
Dusty Kansas
Wander Bar Warp
Wander Bar
Wander Wasp
My Magic Velvet
Magic Manner
Lightning Bar
Three Bars
Della P
Chinchilla
Ponderiel (TB)
Lucky Bonnie
Lovemedarly
Henryetta's Moon
Moon Deck
Henryetta Brown
Savin Sammie
Dogface
Smokey Reader
Pedigree generated by PedigreeQuery.com