Our Riding Horses and Miniatures

  Sorry, not for sale unless we decided to sell one.


Lets see what can I say about Lady.

She has a personality that anyone would want for their children's horse.

Lady and Katrina have learned to trust each other, no matter what is instore for them.

Katrina used Lady in 4-H for 4 years and they did great.

           Katrina showed Lady in 2 horse shows this summer 2012

Alliance Horse Show - they place 4th in Halter, 2nd in Showmanship and 3rd in Pole Bending.

Lougheed Horse Show - placed first in costume class

2013 Alliance Horse show - they placed 5th in Halter.

2014 Alliance Horse Show - placed 4th in Costume Class

2015 Metsikow Horse Show - Placed 5th in halter class and costume class

  2016- 2017 Alliance and Metiskow Horse Shows they have placed in some classes. 

2018 Metiskow Horse Show - they placed 4th in Halter class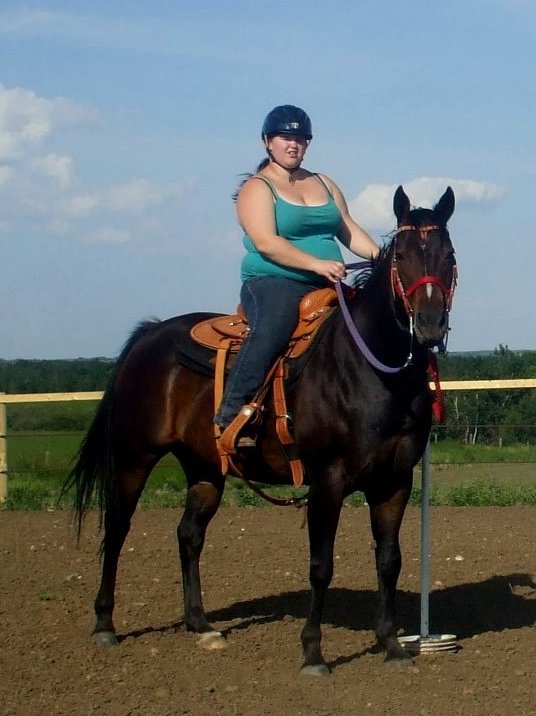 DBF Oh Sweet MyLady

                 Reg # 4115340

             Born on June 1/ 2001



We are so please with Peter's techinques. Our horses comes home with the same sweet personality they left with.  Peter trains them not breaks them.

                 Peter Dyck has done a great job with them.

                         His phone number is 780 856-2707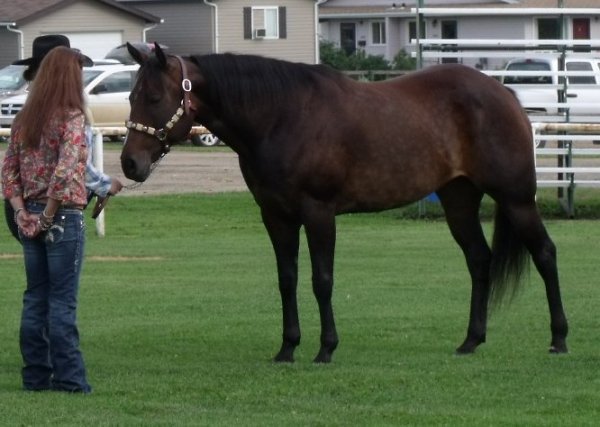 White Sox Cody

                 # 4829211

                            Born on April 5.06

Color: A bay with four white socks and a big tear drop star.

I have never had a foal with matching socks before.

He is nicely built with straight legs

Cody has lots of running pedigree plus some reining.

He is turning out to be good looking colt. He is very quiet as well.

  Cody and I went to 3 - 2011 Horse Shows - placing  4th in Halter, 5th in Showmanship, 3rd in Western Equitation and 5th in Barrels

His pedigree is below the picture

                                                   Cody is semi retired do to an injure to his shoulder.

Dun Kiddin Amigo ------

Sheza King Dor  ---------

Swift Midnight  ------------

My Magic Velvet  ---------

Brennas Kid --- Kid Five Cody / Be Aechs Brenna

Sassy Patsy Pine -- Amigo Peppy Pine /  Scorps Sassy Patsy

Doc O Dude --- Doc Olena / Freckles Fancy

Peping --- King Hankins Two / Pep D'or

Barry Swift -- Swift Solo / Otoe's Susie

Sheza Star Seeker --- Goldseeker Leo / Cookie Machine

Magic Manner ---- Lightning Bar / Chinchilla

Lovemedearly ---- Henryetta's Moon / Savin Sammie


Cant Beat Velvet

Appendix Mare   Reg.# X0491186

  Velvet is 15 hands high. She is a very trusting mare, anyone can ride her. Velvet is a mare that you can ride any time. Even if it is a year later you will have no trouble with her. Velvet is one of those all-round wonderful mares to have.

Velvet's maternal sire is  Dallas Bug.  Velvet has lots of running quarter horses that has accomplished in racing plus her thoroughbred side.

                                Born -- Feb. 27 / 1992.

Katrina did really good with Velvet in 2011 horse shows - they placed in Showmanship, Western Pleasure and Costume class.

William took Velvet to the Alliance Horse Show on July 18,2012

Showmanship class - they placed 4th

Pole Bending and Thread the Needle - they got 5th in both.

William used her in the Senlac Multi club (light horse) 2012-2013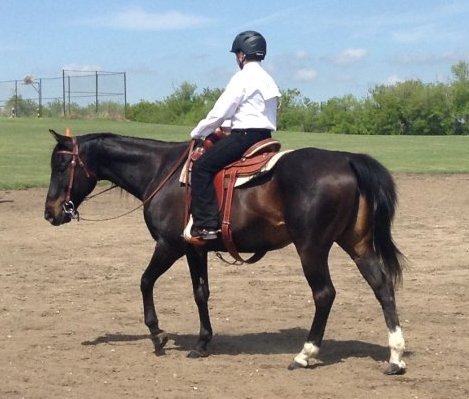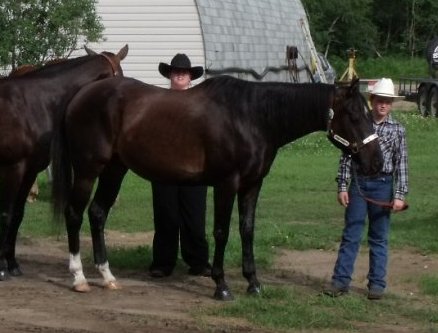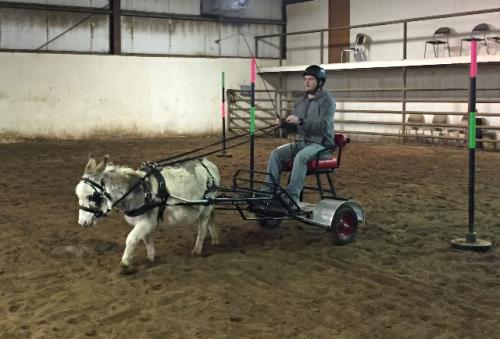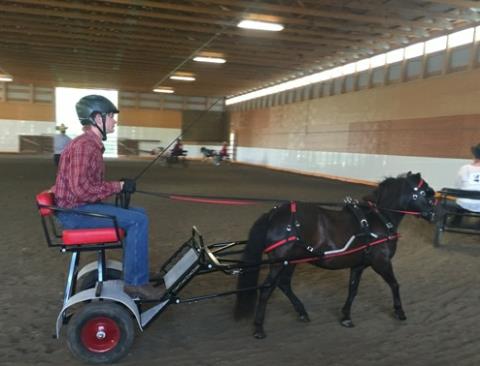 William and Debbie's Miniatures

William trained five of them in the 4H Miniature Driving Project while Debbie trained Booger to drive.

William trained Chocolate to drive in  the Cadogan 4H Light Horse. William is in the Driving level 1-3  project with him and did awesome. 2010-2011

Picture above is from the Metiskow Horse Show July 9,2017

William and Chocolate have been showing and placing at local horse show since 2010 to now. This year (2017) they even got reserve champion halter at the Lougheed horse show.

William training Jack to drive 2016/2017

  William and Chip at our Achievement Day May 26/2013 in our 4H Miniature Horse Driving project 2012-2013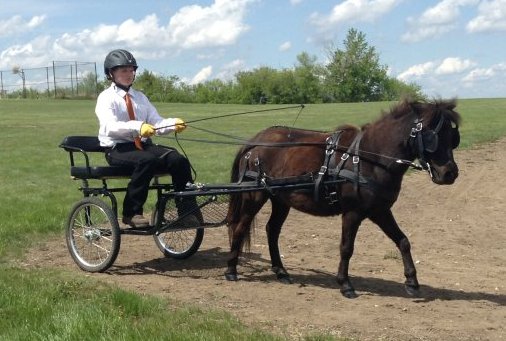 Velvet - age 21 in this picture at our Achievement Day May 26/2013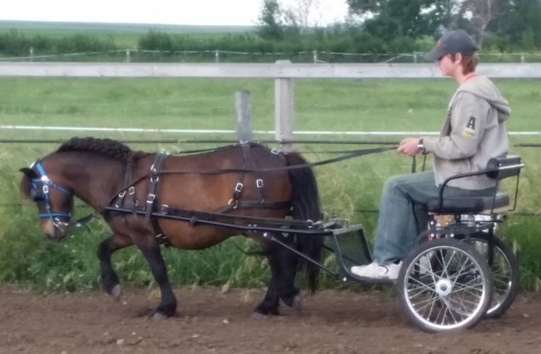 BamBam - William trained with Chocolate as a team for 4H season (2014-2015)

William showed him at Metiskow Horse show - placing -3rd in halter class, showmanship class, costume class, pleasure driving. and 5th in driving course.

Alliance Horse show - they placed 3rd in halter clas, showmanship class, driving class and 2nd in costume class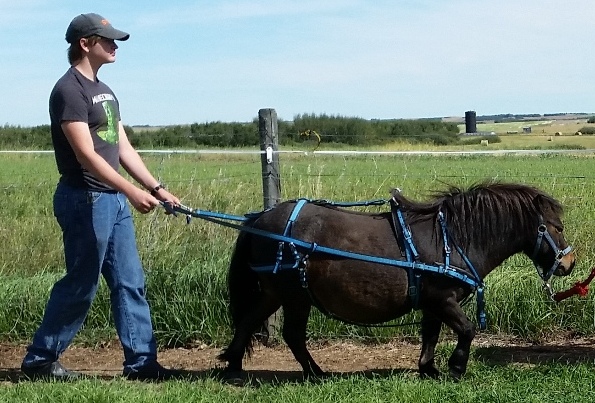 Gazoo first time with the harness on. He is BamBam full brother.

2015-2016 4H year William will be training him as a driving team with BamBam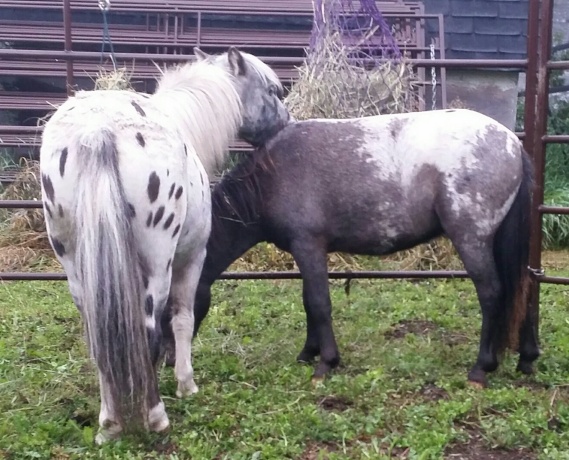 Booger and Stanley purchased them in August 2015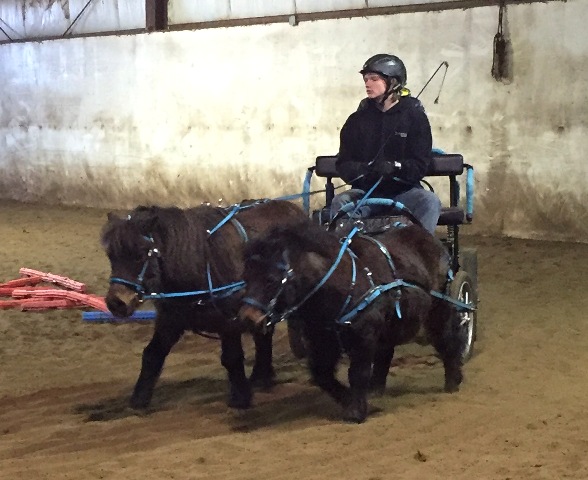 BamBam and Gazoo driving as a team 2016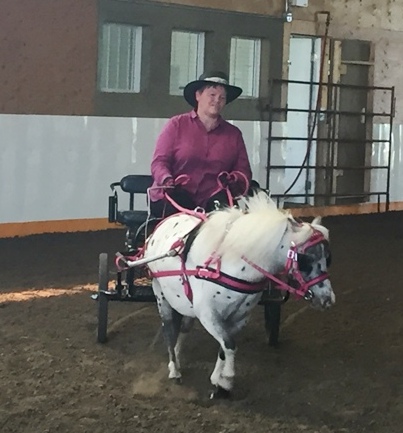 Booger and I are having a great time showing at local horse shows. We have placed in Halter, pleasure driving and obstacle course.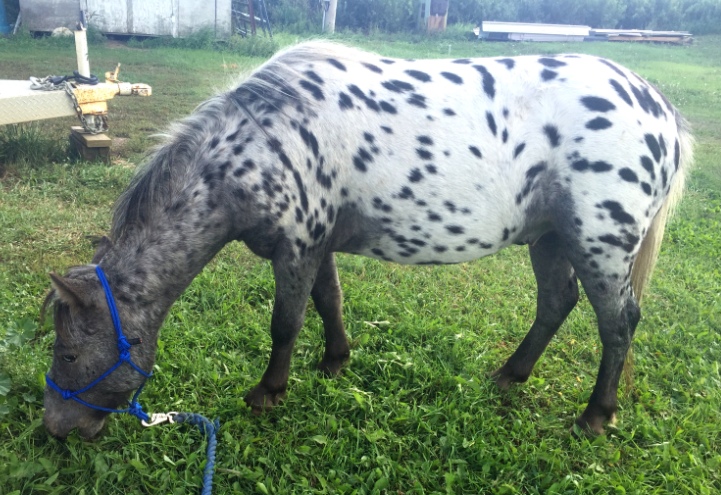 My newest mini - BlackJack. I will be training him and Stanley as a team.

               DBF Diablo Torch

Barn Name - Diablo

Color - Gray    Black base with a star

Born - May 8, 2009

   Diablo is very straight and has a nice bone structure. Diablo is very friendly and has become William's colt. He is the first foal from this cross and I'm very please with this cross.

They are a very good match.

William and Dee have been in a couple of horsemanship clinics

Diablo
Grey colt
Brio Fritz Cashbar
Bit O Dash
Givemalickin
Dash For Cash
Twinkly Rocket
Lady Streaker
Todd's Charge
My Diamond Lil
Poki Chex Goes
Royal Oak Chex
King Fritz
Grulla Queen
Poki Goes
What Goes On
Verde Wag Two
TF Shezatuffcookie
The Jumpin Jack Kid
Royal Informer
Informative
Scarlet Oakes
San Star Heidi
Lock's King
San Star Dutchess
Onetuffshugarcookie
Shugar Cat
Sugar Bar
Willacat
Stuffed With Tuff
Im A Tuff One
Kay King
Pedigree generated by PedigreeQuery.com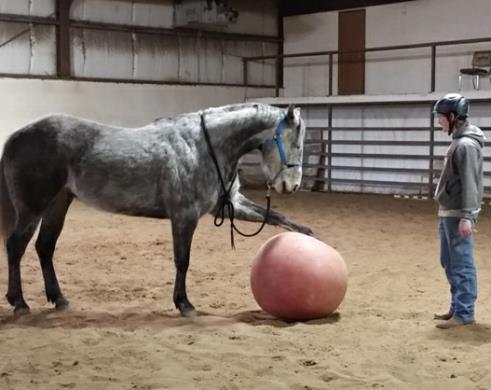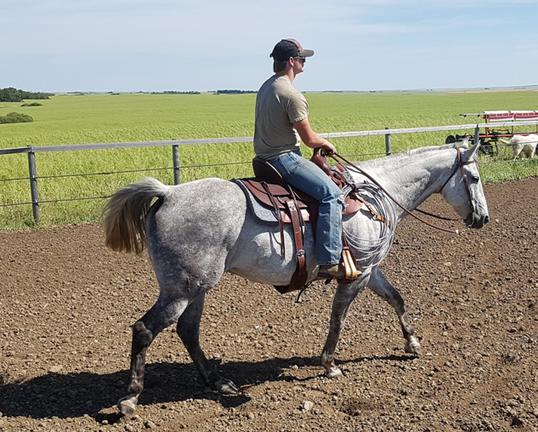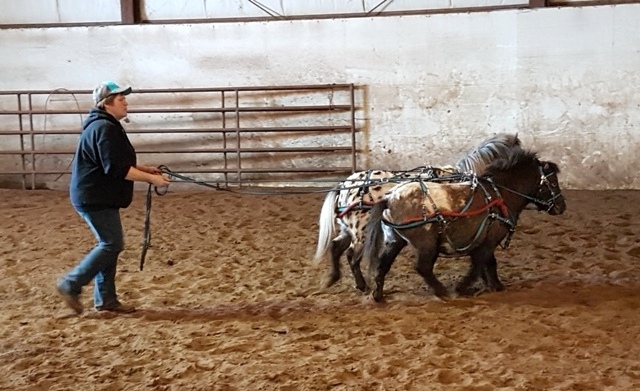 Doing some ground driving with Stanley and Blackjack   April 14,2018


                          "DBF King Argo Cash"

Barn Name : Argo           

Born: June 15, 2014

Color: Brown/Black with a small star

  Huge colt and very nicely put together.

Lots of running pedigree with some working cow. Very straight on his legs.

Sire is Fritz (Dash For Cash/KIng Fritz) Dam Bonnie (Barry Swift/ Magic Manner)

         Argo had 2.1/2 months of training (July- Sept. 2017)

    In 2018 we only did some ground work with the saddle on, No riding, wanted him to mature more.

On May 2, 2019 William wanted to try him out. He did 40 minutes of ground work then rode him. 

                                           What a great mind this gelding has..

                                  Givemalickin ----- Dash For Cash / Twinkly Rocket

                        Bit O Dash

                                  Lady Streaker ---- Todd's Charge / My Diamond Lil

                                  Royal Oak Chex -- King Fritz / Grulla Queen

                        Poki Chex Goes

                                   Poki Goes -------      What Goes On / Verde Wag Two

                                   Barry Swift  ----- Swift Solo  / Otoe's Susie

                        Swift Midnight

                                   Sheza Star Seeker ------- Goldseeker Leo / Cookie Machine

                                    Magic Manner ------ Lightning Bar / Chinchilla

                         My Magic Velvet

                                    Lovemedearly -------- Henryetta's Moon / Savin Sammie